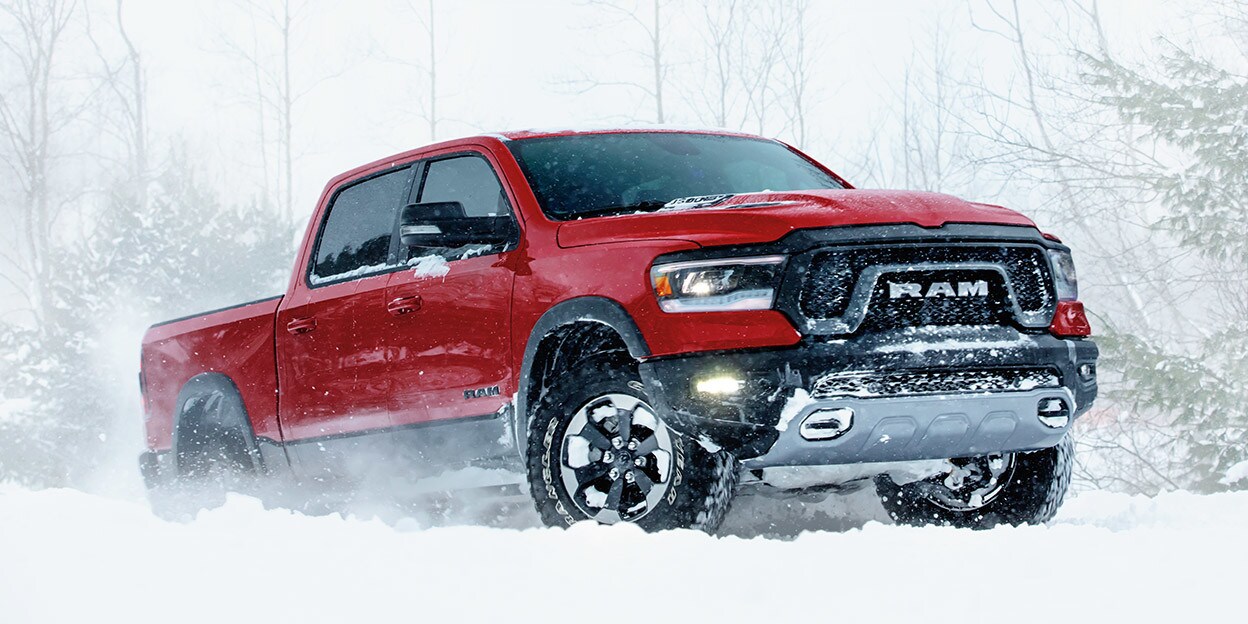 Finding Your Ram Truck in Westlock, Alberta
We are the preferred Ram dealership in Westlock, Alberta, proudly serving Westlock, Spruce Grove, Edmonton, Barrhead, St. Albert, and surrounding areas in Alberta. Our dealership sells all versions of Ram trucks, including the 2020 Ram 1500, one of the best and most affordable trucks on the market. We are always ready to help you grab life by the horns with a new Ram in Westlock, by helping you find your Ram Dream Truck in our showroom. If you don't have enough to buy your new Ram 1500 in Westlock, don't lose hope. You can always apply for online financing and save up to 2 hours at our dealership!
Design Features and Capability
The Ram 1500 offers an excellent Black appearance package that deletes any silver assets or chrome that may have been on the truck. It is also made of sturdy metal, hence guaranteed security while in it. The car has a 12.3-inch touchscreen that has most of the hard-key buttons surrounding it for simple access. The vehicle has a 3.6-litre EcoDiesel engine that offers an impressive economization of its diesel consumption. The Ram 1500 has a payload capacity of 2,300 pounds maximum and a towing capacity of 12,750 lbs making it one of the most powerful light-duty pickups in the market.
Differences Between the 1500, 2500 and 3500
The Ram 2500 bridges the difference between the lightweight Ram 1500 and the extra heavy-duty Ram 3500. It is available with a base engine of 6.4-litres and a V-8 engine that produces a useful 410 horsepower. When equipped with a standard engine, the Ram 2500 has a towing capacity of 13,890 pounds and a maximum of 3,060 pounds payload capacity. The car also has a bullish appearance compared to Ram 1500, which gives it an SUV appearance, which is much better than GCM Sierra. You can easily buy your Ram 2500 in Spruce Grove by contact our product advisors today.
Heavy Duty Power and Fun
The Ram heavy-duty 3500 truck has contributed to the success of Ram, which has lasted for almost 30 years in the motor vehicle industry. The Ram 3500 has ever since dominated by large and intimidating headlights and an old school taillight of LED. The car has 18-20 inch wheels, 232 inches long, and 77.8 inches high. It has a 6.4-litre HEMI V8 engine and an optional diesel engine, with a powerhouse with 429 pounds of torque idle. Depending on the engine configuration, a Ram 3500 has a maximum payload of 3,240 pounds and a towing capacity of 14,370 pounds, making it ideal for any large job or haul.
Regardless of your location, you can easily find a Ram Longhorn for sale in Edmonton, Ram 3500 crew cab for sale in Westlock, or Ram 3500 for sale near Spruce Grove by contacting our local dealers and complete the online finance application, so get started today.
Frequently Asked Questions
Are Ram trucks reliable?
Yes, they are reliable. Though there are aggressive competitors in the market who have been ranked higher than Ram, most people are still following up on our upgrades and taking an interest.
What is the best Ram truck model?
The compatibility of each truck depends on the purpose you are planning to use the car for. If you are looking for a luxury truck for work, then Ram 1500 is the way to go. For carrying heavy loads and long rough transits, you may want to consider Ram 3500.
Test Drive a Ram Today
Ram trucks are one of the most affordable and comfortable trucks in the market. To view our full 2020 inventory, visit our showroom or browse our selection online, we're certain you'll find what you need. Once you're ready, we encourage you to schedule a test drive so you can experience the thrill of a Ram truck today. As always, our dealership wants to offer you the best offers and promotions to help you save more, be sure to check often and get in touch with us to learn how you can save on your next Ram truck.
Hours
Monday

8:00am – 6:00pm

Tuesday

8:00am – 6:00pm

Wednesday

8:00am – 6:00pm

Thursday

8:00am – 6:00pm

Friday

8:00am – 6:00pm

Saturday

9:00am – 3:00pm

Sunday

Closed