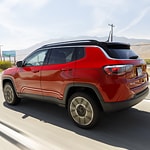 If you like the convenience and versatility of driving a compact sport-utility vehicle, the new Jeep Compass is sure to pique your interest. You can get to know the Compass at our showroom here in Westlock, AB, so don't hesitate to drop in when you have the time to take one of these popular vehicles out for a test drive.
The Compass leaves nothing to be desired when it comes to flair and visual appeal. Jeep's classic grille design has been reconfigured to fit the Compass's dimensions and styling, and the available sunroof conveys the sense of freedom and independence that are commonly associated with owning a Jeep vehicle.
You can pick from a diverse palette when choosing your new Jeep Compass. A number of different trim packages with designer accents and other decorative features are also available.